White House Halts Advanced AI Chip Shipments to China
The Biden Administration announced measures this week to halt shipments of advanced artificial intelligence (AI) chips to China, including chips designed by Nvidia. These regulations, effective in 30 days, aim to prevent China from acquiring cutting-edge U.S. technologies that could enhance its military capabilities. The rules expand restrictions on chip exports to countries such as Iran and Russia, while exempting most consumer chips used in devices like laptops and smartphones. Read more from Reuters.
ITC Investigates Hazelnut Imports over Fraud Allegations
The International Trade Commission (ITC) launched an investigation this morning into hazelnuts and related products, following a complaint by Pratum Farm, LLC. The complaint alleges fraud in the USDA's organic import certification, citing violations of the Tariff Act of 1930 due to false advertising in hazelnut imports. The investigation includes companies in Turkey and the U.S. The Chief Administrative Law Judge will hold an evidentiary hearing, with the final decision pending. For more details, read the ITC news release.
House Speaker Job Remains Unfilled after Another Vote
Rep. Jim Jordan (R-OH) is vowing to keep trying to win enough votes to win the Speaker of the House job in Congress. His statement today followed another failed vote in which Rep. Jordan lost ground following the first vote. The House was in its 16th day without a leader today, which has left Congress unable to take action on pressing concerns or to prevent a partial government shutdown which will begin in a month without congressional action. Read more from Reuters.
AAEI Expands Overseas Partnerships
AAEI and its counterpart in South Korea, the Korean Importers Association (KOIMA), held a signing ceremony last week in Los Angeles for the organizations' memorandum of understanding (MOU). The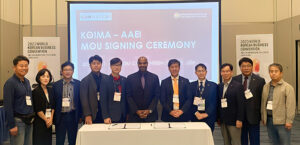 MOU's objective is to enhance trade relations, facilitate knowledge exchange, and encourage mutual business opportunities between the members of both organizations in the Republic of Korea and the United States. AAEI and KOIMA will collaborate on advocating policies that promote free and fair trade between the U.S. and South Korea. 
This week, AAEI met with Vietnamese business owners and Deputy Director General Le Hoang Tai of the Vietnam Ministry of Industry and Trade to discuss a potential MOU and other partnership opportunities.