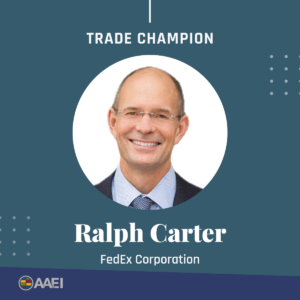 AAEI is recognizing AAEI members— Trade Champions— whose careers in international trade have had significant impact on the development of trade policy and practice. This month, AAEI honors Ralph Carter of FedEx who embodies AAEI's 2023 theme: "Trade Matters."
Ralph is Staff Vice President for Regulatory Affairs at FedEx, an AAEI member for more than 35 years and an AAEI Apex Sponsor. Ralph and his team are responsible for the company's compliance and policy advocacy, including customs, export controls, and trade policy. Ralph's is a familiar face in the D.C. trade community.
Like the advocacy work of AAEI, Ralph seeks legislative and regulatory support for more open trade rules that reduce barriers and help importers and exporters expand their global businesses. He is a frequent speaker and contributor to the Asia-Pacific Economic Cooperation (APEC), the World Trade Organization (WTO), the World Bank and the World Economic Forum. His successes with FedEx go back more than two decades.
Prior to joining FedEx, Ralph was Special Assistant to US Ambassador to the European Union. He advised the Ambassador on trade and international economic issues and represented the U.S. in dialogues and initiatives with the EU.
AAEI leaders know Ralph to be in the vanguard of trade advocacy with a decorated career. AAEI is pleased to confer another career achievement to Ralph as an AAEI Trade Champion. We look forward to seeing Ralph and his team in June at AAEI's Annual Conference in Washington, D.C.