IPEF Negotiations Delayed to 2024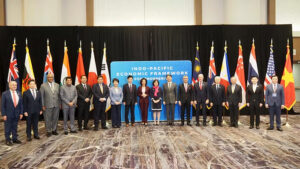 The Indo-Pacific Economic Framework for Prosperity (IPEF) negotiations will reportedly not be completed this week. Australia's Minister of Trade, Don Farrell, states that negotiations will be pushed to 2024 due to concerns on digital trade, labor standards, and environmental protection as well as domestic political concerns in the U.S. Read more from Reuters.
Raimondo: IPEF "Pillars" Completed, Except for Trade
Commerce Secretary Gina Raimondo says negotiators from 14 countries in the Indo-Pacific Economic Framework (IPEF) completed 3 of 4 "pillars" of an agreement this week, but the trade pillar is not yet finished. The areas that were completed include supply chains, clean energy, and fighting corruption and tax evasion. In the supply chain pillar, the IPEF countries agreed on creating an early warning system due to natural disasters and other factors that could lead to trade disruptions. Read more from Reuters.
Biden and Xi Meet for First Time in Year
U.S. President Joe Biden and Chinese leader Xi Jinping met today for the first time in a year, in advance of the Asia-Pacific Economic Cooperation (APEC) forum in San Francisco. U.S. officials expected the conversation to include managing trade, among other pressing issues. The U.S. will propose that APEC members agree to the "San Francisco Principles for Integrating Inclusivity and Sustainability into Trade and Investment Policy," which China will reportedly object to. However, the two leaders agreed to restore military ties. Read the White House statement.
New ACE System to Automate Section 321 Compliance
U.S. Customs and Border Protection (CBP) announced a new system within ACE to automate compliance with Section 321 rules for low-value shipments in its updated ACE deployment schedule yesterday. The updated feature aims to restrict any single entity from obtaining Section 321 clearance exceeding an aggregate value of $800 in shipments per day. CBP anticipates the rollout of this capability in October of 2024. For more details, see CBP's updated ACE Deployment Schedule.
CBP Stopped $199M of Imports for Suspected Forced Labor Last Month
U.S. Customs and Border Protection (CBP) announced this week that in the month of October, the agency stopped 504 shipments valued at more than $199 million for further examination based on the suspected use of forced labor. CBP leads the government's enforcement of the Uyghur Forced Labor Prevention Act (UFLPA), which presumes that imports linked to the Xinjiang Uyghur Autonomous Region of China are made with forced labor and prohibited in the U.S. Overall this year, CBP has stopped more than 4-thousand shipments and denied entry to more than 40% of them. See CBP's latest UFLPA statistics.
Survey Highlights Forced Labor Oversight in Supply Chains
KPMG conducted a benchmarking survey on forced labor with about 130 private sector respondents, most of whose companies had an annual revenue of more than $1 billion, are located in the US, and act as importer of record. The survey found that 68% of respondents focus their oversight on forced labor up to Tier 2 suppliers, with limited attention on deeper tiers. Few companies encountered forced labor inquiries or detentions, leading some to reexport goods. Despite Chinese laws restricting information sharing, 29% provided specialized training to suppliers in response to US laws targeting Chinese suppliers. For more information, watch the webcast and read the report.
Lawmakers Call for Reauthorization of GSP
Representatives Debbie Wasserman Schultz (D-FL) and Mario Díaz-Balart (R-FL) wrote a letter to the House Ways and Means Committee last Friday advocating for the renewal of the Generalized System of Preferences (GSP) program. The letter emphasizes the financial strain on Florida businesses, citing that approximately $300 million of the total $3 billion in additional tariffs, stemming from the expiration of GSP, burden Florida-based businesses. Read the full letter.