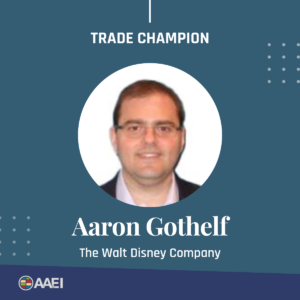 AAEI is recognizing AAEI members— Trade Champions— whose careers in international trade have had significant impact on the development of trade policy and practice. This month, AAEI honors Aaron Gothelf of Disney.
Aaron is AAEI's Treasurer, one of the top three leadership roles on the Association's Board of Governors.  Aaron's sense of fiduciary responsibility as an AAEI leader, however, stretches back to AAEI's move from New York to Washington, DC more than twenty years ago. Aaron developed AAEI's first member database. He periodically provided legal counsel on AAEI initiatives, and still does. He also served for more than 6 years as AAEI's Vice Chair of Membership. 
Members know Aaron for his expertise on export law. He is a subject-matter expert on importing, as well, and has been a featured panelist at past AAEI events. 
At Disney, Aaron was recently promoted to a Vice President's position, VP-Assistant General Counsel for Trade & Regulatory Affairs. Aaron's tariff engineering product advice helped yield $3 million annual duty-savings for Disney.
Prior to working at Disney, Aaron had roles at Deloitte Tax LLP, General Electric,  Tyco International and BP America.
In recognition for his work in international trade, AAEI is pleased to honor Aaron as an AAEI Trade Champion.