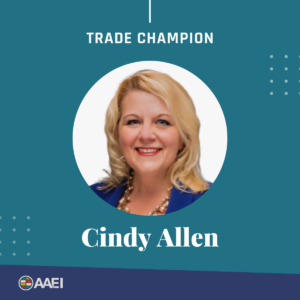 AAEI is recognizing AAEI members— Trade Champions— whose careers in international trade have had significant impact on the development of trade policy and practice. This month, AAEI honors Cindy Allen.
Cindy announced last week that she is leaving FedEx as the Vice President of Regulatory Affairs and Compliance at FedEx Logistics/FedEx Trade Networks, where she served FedEx customers, fellow AAEI members and the U.S. trade community for more than 7 years. Cindy's contributions at AAEI included her invaluable work on AAEI's NextGen Customs Framework proposals (also known as 21st Century Customs Framework, or 21CCF). Cindy spent more than two years working for U.S. Customs and Border Protection as the Executive Director of the ACE Business Office, providing a rare view of trade practices from the government and the private sector perspectives. As a result, Cindy's recommendations were effective and persuasive.
Cindy also made recommendations for the development of AAEI's upcoming education program. The first offering to be introduced later this year will be AAEI's Import 201 course, which will provide credits for the USG's new broker education requirement.
Cindy is a familiar face to many AAEI members. She has been a frequent speaker and moderator at AAEI conferences, as well as other important trade-related events.
Cindy has been actively involved in the international trade industry on a consistent basis for
30 years and has held various positions in the import and export operations, consulting,
compliance and automation arenas. Prior to working at FedEx, Cindy served as the Vice President at several private sector firms before venturing out to start her own consulting firm, Trade Force Multiplier.
In recognition for her work in international trade in the public and private sectors, AAEI is pleased to honor Cindy as an AAEI Trade Champion.