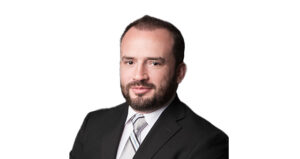 AAEI features members who personify the Association's achievements, initiatives, projects and advantages. The Member of the Week spotlight turns to Adrian Gonzalez of Global Alliance Solutions LLC.
Adrian joined AAEI last week with Global Alliance Solutions, a service provider offering customs brokerage, warehousing, distribution, logistics, and consulting. But many AAEI members know Adrian from his days as Branch Manager at Daniel B. Hastings, Inc., which is also an AAEI member.
Adrian is President of Global Alliance Solutions LLC, which specializes in in US customs brokerage services, warehousing, and distribution as well as consulting, legal and compliance services in Mexico and the U.S. He is a licensed U.S. customs broker and the former President of the Mid Valley Customs Brokers Association, where he continues to serve as a part-time advisory board member.
Adrian joined AAEI primarily for knowledge and the opportunity to work with fellow members on Export Modernization and shaping the future of Customs law and U.S. trade policy. He's also looking forward to participating in AAEI events.