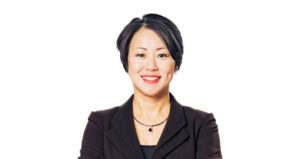 AAEI's 102nd Annual Conference and Expo returns to Washington, DC, June 19-21, 2023, the first in the nation's capital in four years. As the event approaches, AAEI is featuring many of this year's conference speakers. The spotlight this week is on Yuri Unno of Toyota Motor North America.
Yuri will join the kickoff panel, "Washington Insiders," along with fellow panelists Vanessa Sciarra of the American Clean Power Association (ACP); Lisa Schroter of The Dow Chemical Company; Kelly Ann Shaw of Hogan Lovells; and moderator Orisia Gammell of SAP and the Association of Women in International Trade (WIIT). Together, they will explore how U.S. trade policy is developed in Washington, with a "behind the scenes" perspective. The "insiders" will discuss how current policies that affect trade practices were achieved and what to be prepared for in the year ahead.
At Toyota, Yuri is Director of Trade and Supply Chain Policy, Government and Industry Affairs. She is responsible for representing the interests of Toyota on matters of international trade and supply chain issues before the Executive Branch, Congress, and Embassies in Washington, as well as in key diplomatic venues, like Geneva, Brussels, Paris, and Tokyo. Yuri is policy strategist who can provide precise and timely policy advice, reputation risk assessment and advocacy strategy to the company executives on international issues that could impact a company's U.S. and global operations. 
Yuri's panel at the AAEI annual conference is scheduled to begin at 8:15 a.m. EDT on Tuesday, June, 20, 2023.