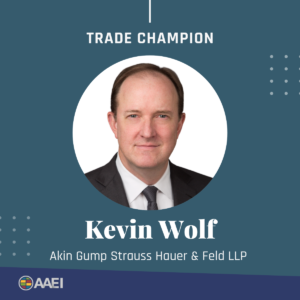 AAEI is recognizing AAEI members— Trade Champions— whose careers in international trade have had significant impact on the development of trade policy and practice. This month, AAEI honors Kevin Wolf of Akin Gump Strauss Hauer & Feld LLP.
Kevin is a partner in Akin Gump's international trade practice, leveraging his extensive experience which includes serving for 7 years as Assistant Secretary of Commerce for Export Administration, Bureau of Industry and Security (BIS). His primary responsibility at BIS was leading the administration of the agency's export control and licensing functions. Kevin was also a Commerce Department representative to the Committee on Foreign Investment in the United States (CFIUS). Kevin was the primary strategist, negotiator and implementer of President Obama's Export Control Reform (ECR).
Kevin is a prominent speaker on international trade, with more than 400 public speeches or presentations on his career record, including participation at AAEI's annual conferences (AAEI's 102nd Annual Conference an Expo will be held in Washington, DC, June 19-22, 2023). Kevin has also delivered webinar presentations on export controls for AAEI.
Kevin has received global recognition for his work in international trade, including being named Export Control Practitioner of the Year in the 2017 WorldECR Awards. AAEI is pleased to add another honor to his many achievements, as an AAEI Trade Champion.